JOIN THE YELLOW FAMILY
Looking for a student job, an exciting career, or a company that cares about its employees?
Find out what Yellow has to offer and why it's great to work with us!
Join our team, build your future
Yellow Shoes
WHO WE ARE
Founded in 1916, Yellow Shoes is a proudly Quebec-based family business and one of the most recognized shoe and accessories retailers in the country.

Four generations have succeeded one another through the decades, each accompanied by the best collaborators to create and grow the company to what it represents today.

Join us in our mission to provide the best quality and value footwear to families across Quebec and Canada!
A word from the President
A word from the President
"Since 1916, our journey from small local store to global brand has been possible thanks to the unwavering support of our dedicated team.

Our values focus primarily on teamwork, integrity and respect for our customers and employees. The key to our success is maintaining a positive work environment where every employee feels part of our family and empowered to bring their unique skills and perspectives to work every day.

We are proud of our heritage and remain committed to building our legacy into the future, with our employees as valued members of our Yellow family.

Join us as we continue to write history together!"
Our values
Yellow Shoes was established on values that are at the heart of our commitment to our customers.
Back in 1916, the vision of Samuel Avrith, our founder, was to offer quality shoes at affordable prices. Born into a large family, he knew how difficult it could be to provide for the whole family and made it his mission to make fashion more accessible to Quebecers.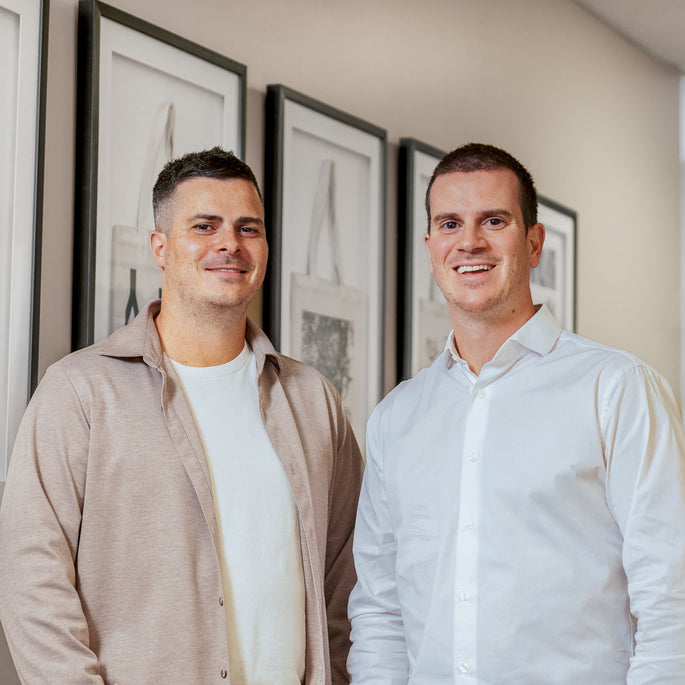 FAMILY
Family is at the heart of Yellow, deeply ingrained in our history and mission. With four generations of the Avrith family within our company, every employee is like a new family member. Our core mission is to offer affordable footwear to Quebec families, making 'family' more than just a corporate buzzword – it's our essence.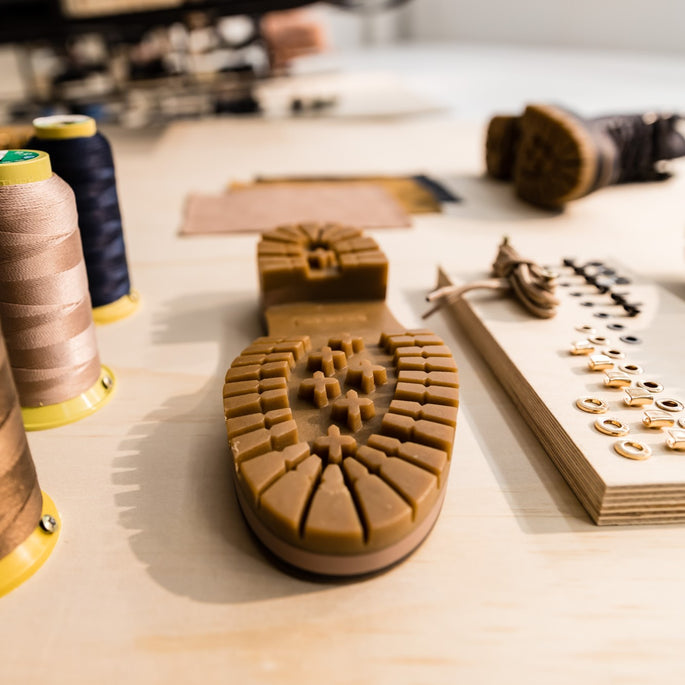 INNOVATION
Yellow constantly strives for improvement. We enhance our product selection by sourcing innovative materials at competitive prices, such as cleated soles for winter footwear. Behind the scenes, we continually refine our processes to provide the best customer experience.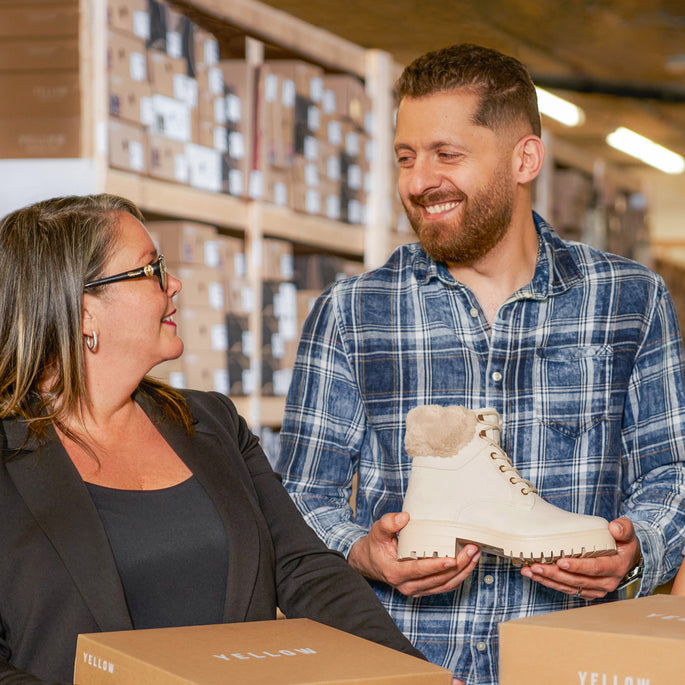 MAKING A DIFFERENCE
Established in Quebec since 1916, Yellow recognizes its potential to impact society. Through our Yellow Cares program, we've donated food, thousands of shoes, and accessories to provincial charities. Our Eco collection, made from recycled or vegan materials, also reflects our commitment to positive change, one step at a time.
There are tons of reasons to choose Yellow
Competitive salary
Collective insurance
Telemedicine service
Employee & Family Assistance Program
Exclusive employee discounts
Employee referral bonus
Flexible hours
Fridays pm off at head office
Career opportunities
+500 employees
+90 stores
Successful and well established company
WORKING AT YELLOW
"I've been with Yellow for 7 years and I love working here. I started out as a simple employee and here I am, a sector manager! As a fashion fan who wanted to grow within this company, I have found the right job!"
"Yellow offers us a flexible work environment that allows us to combine work and family. We have a lot of freedom for our different projects and we have the people and tools to make them happen."
"When I finish school and come to work, I'm happy because I know I'll have fun. There is never a dull moment here! Working at Yellow is very beneficial to me because in addition to having a close-knit and supportive team, I have a flexible schedule."
"From my first day, I was listened to and trusted. Teamwork and mutual assistance are very present and we work miracles together. Plus, I see the positive impact of the projects I work on, which is really motivating!"
"The team I work with is warm and friendly and the atmosphere is conflict-free. It's very motivating. In addition, Yellow has taught me the not only the skills, but also the soft skills to improve my career and love what I do even more."
"The atmosphere in my team is good, everyone is involved. The days at the warehouse present new challenges every time. We feel that we make a difference every day and Yellow gives back to us, like at the Christmas parties for example."
Are you the one we are looking for?
Our people are passionate, curious, well-rounded, motivated and dynamic, with something different to contribute. They're enthusiastic about everything they do, and are creative, unstoppable, clever and proactive.
Each of the over 500 people who make up Yellow is important to the success of the company. We are in a constant state of growth and evolution so having the best team has been key to continuing to grow together.
THE HEAD OFFICE
Several departments are located in the head office: human resources, finance, customer service, but also buying, marketing, logistics, IT support, distribution & allocations and the warehouse. We have more than 70 employees who work together to move the company forward.
THE WAREHOUSE
More than 30 employees work in the warehouse every day to prepare and ship customer orders as soon as possible, as well as to replenish store inventory. Without their support, customers would not be able to find the pair of their dreams in stores or online.